Hidde van Schie (1978) made his first appearance in the theatreplay Shopping & Fucking by Toneelgroep de Trust in 1997, but finally graduated as a painter from the Willem de Kooning academy in 2001. Since then he has been working on a multifaceted oeuvre consisting of drawings, collages, sculptures and paintings. In 2002 he won the Bunning Brongers prizes for painting. His compositions of wild jungles, hairy giants and crying birds are painted with supple gestures, in a characteristic style and palette. His work has been shown in exhibtions and at fairs in the Netherlands and abroad. In addition to his visual work he is a versatile musician. Succeeding earlier instrumental releases he made his debut as a singer-songwriter with the release of The Mirror & The Razorblade / Dusty Diamond Eyes in 2013. In 2016 he released the album Offshore under the monicker Friday Wilkinson.
Since 2003 Hidde van Schie has been involved on a curatorial level in different projects a.o. F#, De Wereld van Witte de With, Parckdesign & Deep In The Woods. Since 2015 he is working as a project-coordinator for the versatile outreach-programme S.M.A.K. moves at the museum for contemporary art in Gent.
Hidde van Schie is currently working on a new solo record to be released later this year.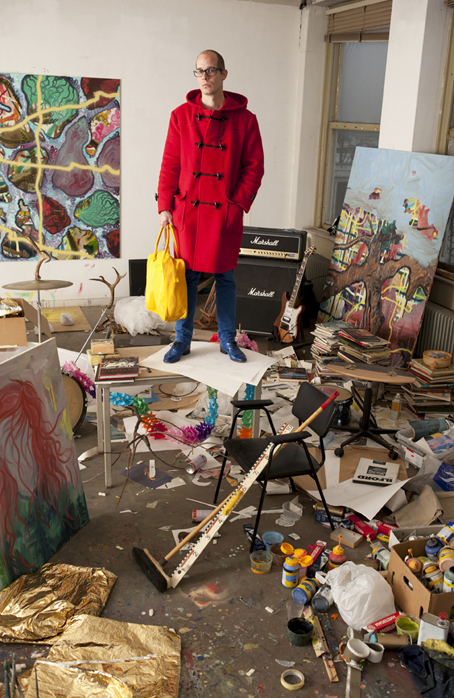 Photo: Aryan Janssen